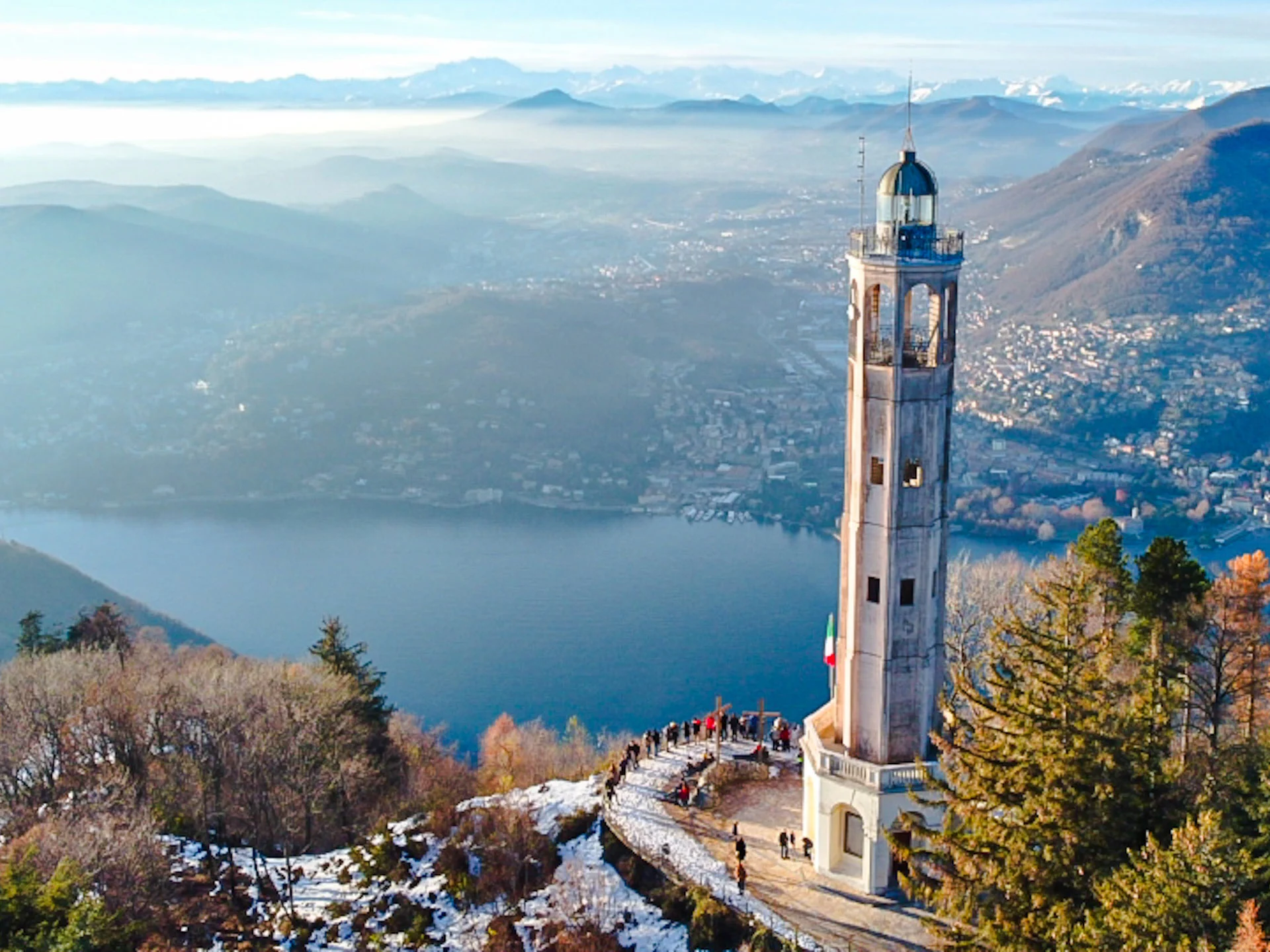 Voltiano Lighthouse at Brunate: unique panorama of Lake Como and the Alps
The Voltian Lighthouse was built in 1927 on Mount Tre Croci (San Maurizio locality) in Brunate in the province of Como.
It was built in honour of Alessandro Voltaon the occasion of the centenary of the birth of the Italian physicist of the same name, to honour his memory and his great work in electricity research, as a famous inventor of the electric battery.
Brunate Lighthouse: some information
The Voltian lighthouse is 29 metres high and its light is visible up to 35 kilometres away. The structure is made of reinforced concrete and the lantern, made of glass and aluminium, is supported by a steel frame.
Inside the lighthouse is a spiral staircase of 143 steps which leads to the top, where the lantern and the two circular balconies are located.
From above it is possible to admire views ranging from the western arc of the Alpine chain to Monte Rosa.
The lighthouse is still in operation and has an enormous symbolic value, not actually used as a landmark for navigation on Lake Como.
The design of the Voltiano Lighthouse was entrusted to engineer Gabriele Giussani
Voltiano Lighthouse: cost and hours
The ticket to visit the Voltiano Lighthouse costs 2 euro with possible discounts for children or groups.
Those who do not have the energy to reach the top of the tower can still enjoy the scenery from the large balcony in front of the lighthouse.
The lighthouse is opened by Brunate volunteers at weekends and no reservation is needed to purchase tickets.
Opening hours are Saturdays and Sundays from 10 a.m. to 7 p.m.. In case of rain or strong winds it usually remains closed.
Access is allowed to four people at a time.
Faro Voltiano: How to get there
If you are wondering how to get to the Voltiano Lighthouse, the least tiring way is by car, but it depends on traffic and seasonality due to the many tourists.
Starting from Como, go up Via per Brunate and once in the village follow the signs that take you to the foot of the lighthouse steps where you will find a pay car park.
We do not recommend the car as the road is really narrow and winding and finding a parking space is a real feat, rather it is better to take the funicular up and then walk to the lighthouse.
Follow us on social media