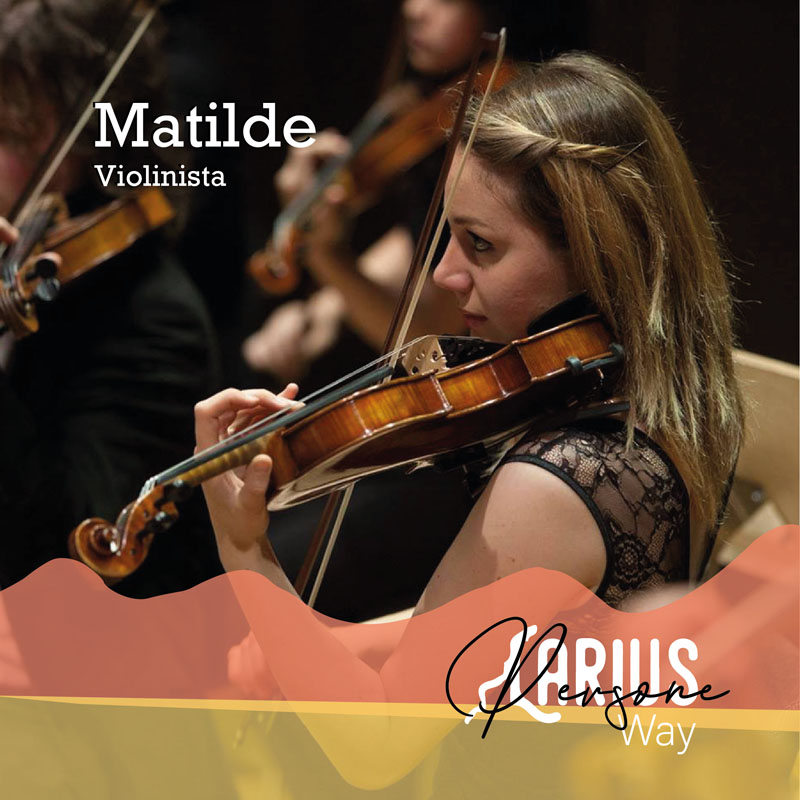 Violinist in Como, Matilde Tosetti.
HI! I'm Matilde, I'm 27 and I'm violinist Of Como! My passion was born thanks to my family. When I was little, my mum enjoyed cooking while listening to classical music and opera arias. While she sang and cooked, I took two wooden spoons, climbed onto a chair and started conducting! From there I realized what I wanted playing the violin, maybe even for all the Vivaldi concertos I had listened to as a child!
I studied at the "G. Verdi" Conservatory of Como, at the Conservatory of Italian Switzerland, at the Verona Conservatory and at the Bologna Conservatory (and yes, you never stop studying!) and now I am freelance violinist and my great passion is ancient music and performances on historical instruments.
We call them "historically informed" performances, where we analyze how music was performed in the style of the time and with the instruments of the time, from the Baroque period to the 1900s. It is a fascinating journey because it allows you to combine music, history and literature classic.
I collaborate with many ensembles and orchestras of international level and have played in magnificent halls in Shanghai, Tokyo, Paris, London, Lisbon, Barcelona, Versailles, Frankfurt, Geneva, Lausanne, Zurich, Warsaw, in numerous festivals and I have recorded several CDs.
Although I'm always around, every time I come back I feel the need to visit "my" Lake because I always miss it. It's right at Como that I took my first steps in music and part of my heart will always remain there
On my Instagram profile you will listen to my music and see a bit of everything I do, the cities and places I visit for concerts, the theaters where I play but also my cats, my garden and the dishes I cook.
I can offer violin lessons for the little ones or for those who already have an advanced level on the instrument and want to deepen aspects of Baroque and ancient practice or food for thought on ancient sources and treatises.
Gallery
Last People added
Follow us on Instagram