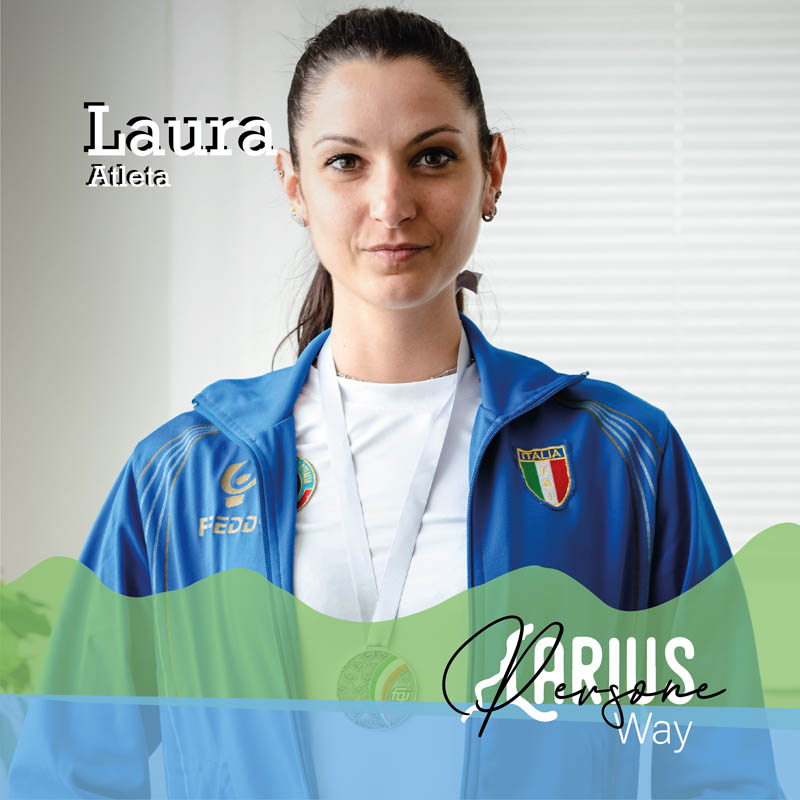 Laura Vernizzi, Italian Athlete and Gymnast.
HI! My name is Laura, I was born and raised in Como and I am theFly Gozzano gymnastics coach, a rhythmic gymnastics club I founded 5 years ago.
I myself was a gymnast.
Merit of an advertising flyer seen by my mother in elementary school, I start at 6 years in the Comense and at 13 I enter the youth national team. After Serie A and international competitions, at the age of 16 I took part in my first world championships as an individualist.
In 2002 I changed company and moved on to San Giorgio Desio, and the following year Emanuela Maccarani, coach of the national team, chooses me to join the team that would participate in the 2004 Athens Olympics. There a dream comes true: we win a silver medal!
But that's not all: the following year, at cworld championships in Baku, after a silver in the general competition and in the final of 5 ribbons, we conquer a historic gold in the final with 3 hoops and 2 clubs. It was an immense emotion and I cried for the first time in my life from joy!
In 2006 I decided to go back to being an individualist and managed to get a place in the national team. Unfortunately I fail an important qualification and so I decide to leave.
But I don't stop: I do two years of theatrical tours with the Rhyth.Mix company, with which I also participate in Scherzi a Parte on channel 5, thanks to my friend Luca Bizzarri, follower of the rhythmic national team.
In 2012 I became a coach at Omega; I stay for 4 years, taking the company from 30 to more than 100 gymnasts, with 4 locations open.
In 2015 I decide to open my own ASD office and I currently have a gymnast in the national team!
Outside of my sporting world, I love MotoGP, fashion and modeling for shootings. I also like reading, drawing, writing and of course I love my lake Como!
Gallery
Last People added
Follow us on Instagram