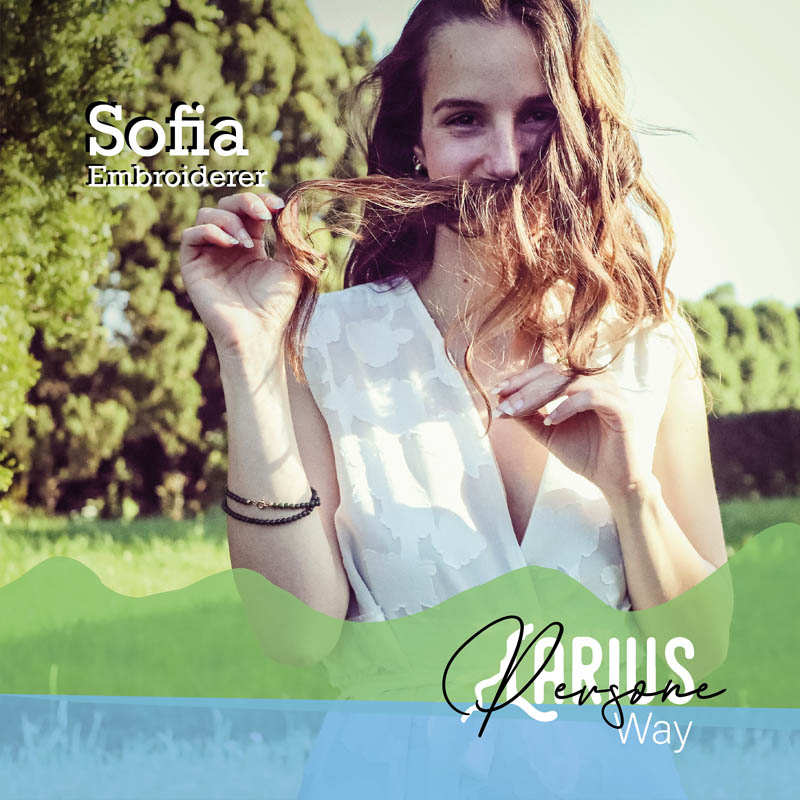 Hand embroidery Como, Sofia Casciardi creates tailor-made garments and personalized handmade accessories.
HI! My name is Sofia and I'm a 26 year old girl with the passion for craftsmanship. All that comes created with hands it's always stimulated me, it's an effective way to express myself and since I was a little girl I enjoyed transforming mum's old skirts into dresses that suited me, using safety pins and clothespins!
I studied Fashion&Textile Design atAcademy of Fine Arts "Aldo Galli" of Como (IED group) and from there I continued on my own to experiment insartorial field, in natural dyeing and hand embroidery.
To date I create made-to-measure garments preferring natural fibers and sometimes I recycle discarded garments giving them a new shape without further waste. I do custom hand embroidery on clothes, bags and various accessories.
Two years ago I won a contest with Armani, which allowed me to participate, as a costume designer, in a short film called "The Jacket". A unique experience of its kind, because being on a film set is something indescribable. This certainly gave me even more desire to express my creativity and to believe in myself.
Among the various commissions I received, there was one that particularly struck me for its meaning: a girl suffering from cystic fibrosis asked me to embroider a tattoo she had on her back; breathing well is complicated for her and in a period of health emergency like this it made me think about the things we take for granted. If with a simple embroidery I can fortify a message of hope like yours, this makes me more than anything.
My profile instagram offers a showcase of what I do, from commissions to personal works, all handmade! In fact, these are garments and embroideries made entirely by hand.
You will be able to find an inspiration for something unique and personal, a garment with added value because it is unique in its kind (in terms of construction and fabric) and the same goes for embroidery. A slow fashion that I hope will last over time!
Gallery
Last People added
Follow us on Instagram