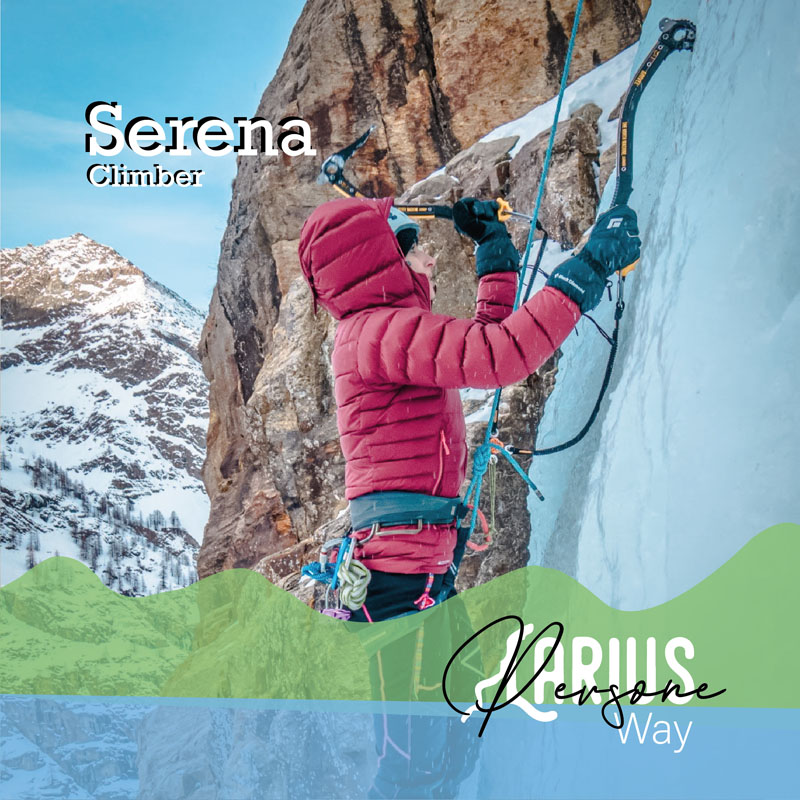 Climber on Lake Como, Serena Monti
HI! I am Serene a young woman passionate about nature and climbers on Lake Como. I adore climb, Do Mountain climbing, ice falls, hiking, run and ride a bicycle. Whether it's multi-day "trips" or a "hit and run", I like to seek adventure and exploration. I am lucky to be able to share these passions with my boyfriend!
I have a degree in social and occupational psychology and I developed a specialist thesis on climbing, with a focus on female figures. This is how I combined my studies and my passion! I am very determined and goal oriented, sunny, curious and always ready to challenge myself.
At the moment I work in a sports shop as a technician in the mountain clothing department where I try to satisfy the needs of customers, combining my knowledge of fabrics and technologies with passion and the practice of the activities that are dealt with!
The idea of climbing came to me one day in August, while I was on vacation by the sea. Almost paradoxical! So, once back, I started a climbing course in the gym and voilà, now I can't do without rock! At first I dedicated myself to bouldering, but then I rediscovered crags and multi-pitch routes.
Over time I then expanded the range of activities and adventures to experience the mountains even more. And so, in addition to trekking (even for several days, with tents or bivouacs or leaning against shelters) I have dedicated myself to mountaineering, high mountains, ice falls, cross-country skiing and I still want to try new activities!
My profile talks about me, my passions, what makes me feel good. I share happy moments, glimpses of the world, hoping to give emotions even just through a click, maybe even give inspiration. I like to think that we don't necessarily have to be champions to be able to do what makes us feel good and that with perseverance and commitment we can also take away some satisfaction!
Gallery
Last People added
Follow us on Instagram