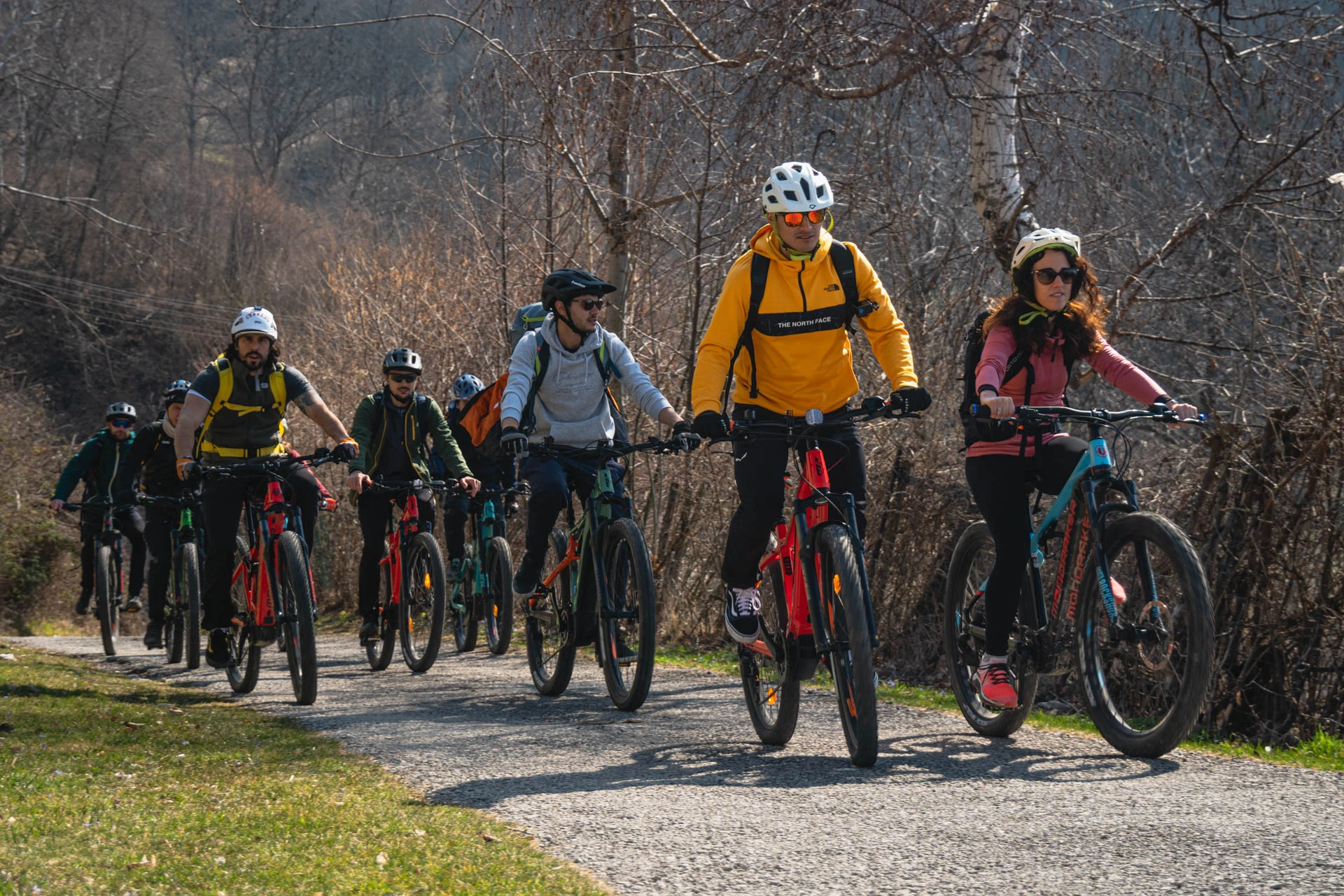 Bellagio electric bike rental on Lake Como – Ghisallo Rent Bike
Ghisallo Rent Bike offers the service of electric bike rental near Bellagio on Lake Como, offering tours and experiences immersed in the nature of this splendid area.
The headquarters are located at the Ghisallo square, not far from Bellagio and a few steps from the famous chapel dedicated to Our Lady of Ghisallo, the patroness of cyclists.
For several years they have been leading people to discover the extraordinary beauties that surround Bellagio, Ghisallo and the Lake Como.
They offer the possibility of rent electric bikes or e-bikes suitable for any type of route to explore the area independently, otherwise Roberto and Ariedo will take you with them on Organized Group Tours.
Bellagio electric bike rental: an experience to live on Lake Como
Our experience was wonderful, a electric bike ride surrounded by nature and traveling along asphalt surrounded by trees and animals, undergrowth, off-road uphill and downhill sections and then coming out in front of breathtaking views and panoramas.
Thanks to Robert and Ariedo, super available and prepared, you have fun and you are in no danger. Based on your level and what you want to do, they try to adapt the route so that you can fully experience the day.
We think it's a different way to spend a day in contact with nature, with friends or family, detaching a bit from everyday life breathing clean air And doing physical activity.
We recommend that you try a rent an electric bike and let yourself be guided by these two madmen.
Electric bike rental: What can you do?
With Ghisallo Rent Bike you can discover the best itineraries to do on Lake Como with an E-Bike, deciding whether to rent one to use it independently or rely on Roberto and Ariedo, guides certified by the National MTB Academy, for an organized tour!
The organized itineraries are many and designed to give you aunique experience ranging between nature, glimpses and landscapes, adapting everything according to your needs.
Some tours they offer are: Monte San Primo, Corni di Canzo, Piani di Artavaggio, Dorsale del Triangolo Lariano, Conca di Crezzo, Cornizzolo and others.
Lake Como Team Building
The guys from Ghisallo Rent Bike organized by Team Building on Lake Como with their electric bicycles, a different way to promote teamwork full of fun, sport and nature.
The itineraries are surrounded by greenery to be able to enjoy breathtaking views, guided tours and tastings of local products in farmhouses or refuges.
The team is always accompanied by certified guides and will be equipped with all the equipment to enjoy the experience.
What are you waiting for?
Conclusion
We are super happy to have met them, every time we spend unforgettable days with them and our Creators having fun like crazy.
If you want to have a slightly different experience than usual, send a message to Roberto, he will be happy to meet you.
#discoverthelake with #lariuway
Gallery
Location
Contact Ghisallo Rent Bike
Latest Activities added
mirko
2023-08-02T17:05:07+02:00
Electric bike rental Bellagio and Lake Como - Ghisallo ...
Follow us on Instagram