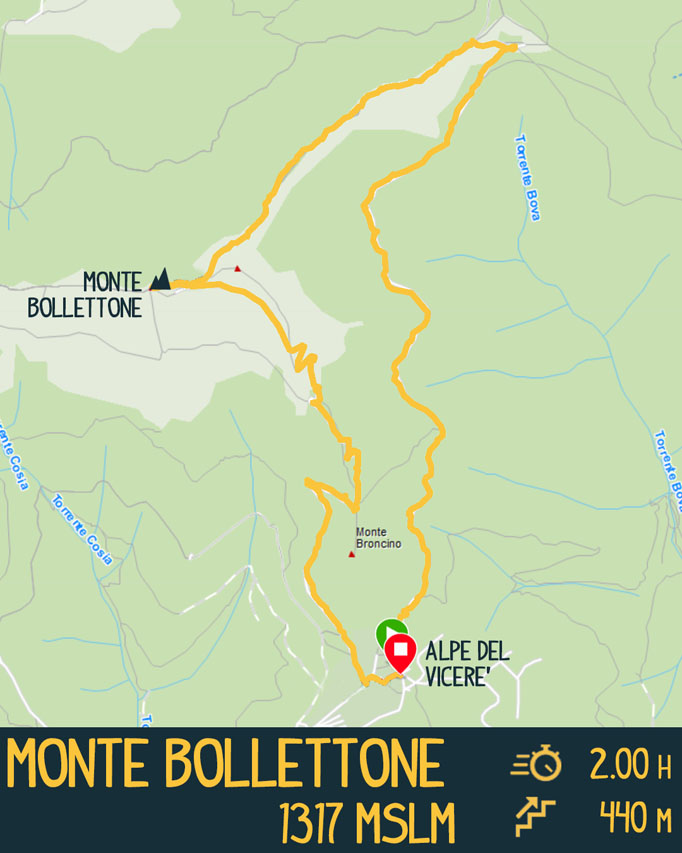 Length: about 6.3 kilometers

Elevation gain: about 440 meters

Refreshment points: Capanna Mara / Bolettone Refuge

Water on the trail: A fountain at the beginning of the route
Monte Bolettone, panoramic excursion on Lake Como
Today's route is a simple hike on the Monte Bolettone, truly within everyone's reach, a few steps from Milan.
In full of Larian triangle we decide to undertake the journey in the late afternoon to be able to enjoy the view of the Lake Como at sunset, even if the wonderful panorama will leave you speechless at any time of the day.
Today's goal is Monte Bollettone (or Bolettone), a peak of the Como pre-Alps 1317 meters high. There are several paths and trails that allow you to easily reach the summit, for example you can also start from Brunate, but today our starting point will be theAlpe del Viceroy.
After leaving the car in the locality Alpe del Viceroy, a plateau in Albavilla, we start from the easy path that develops in the beech wood on a wide driveway that takes us to the Hut Mara (1150 m), a refreshment point located below the summit of Monte Bolettone.
From here the path takes the ridge which, in a short time, leads to the Bolettone Refuge and on top of Monte Bollettone from where you can enjoy a view that embraces the Grigna, i Canzo horns, The Resegone and the Mount Cornizzolo surrounding.
The weather is not exactly favorable to fully enjoy the sunset, but still leaves us space to take some pictures.
We undertake the descent at dusk along a different road than the outward journey, this one also suitable for vehicles but steeper which quickly takes us back to the car park, thus making a circular route.
Simple walk on Monte Bolettone from Alpe del Vicerè
If you fancy a simple and quick but rewarding outing, we highly recommend the walk on the river Monte Bolettone from Alpe del Vicerè.
This excursion is also suitable for families for a classic Sunday walk or for cyclists who travel these paths with their mountain bikes.
If your intention is to stop and eat at the refuge, remember to book, so as to have lunch guaranteed when descending from the summit.
Follow us on social media